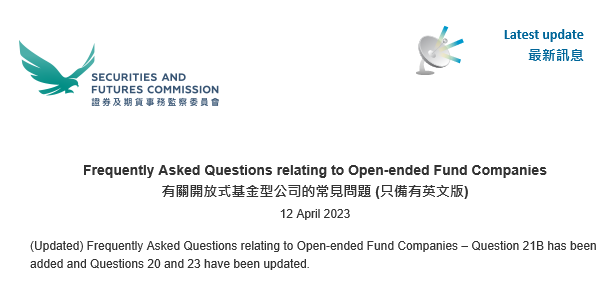 SFC updated its OFC FAQs on 12 April 2023
Hong Kong fund managers licensed with the Securities and Futures Commission of Hong Kong ("SFC") have used open-ended fund companies ("OFCs") as a structure for both open-ended and closed-ended private funds. The SFC further updated its FAQs on OFCs on 12 April 2023.
The two key updates for private OFCs are:
OFC Annual Report Filing
While annual report of an OFC must be published and filed to the SFC within 4 months of the end of the OFC's financial year, the SFC may modify or relax this if the SFC considers that, in particular circumstances, strict application of the requirement would operate in an unduly burdensome or unnecessarily restrictive manner.
OFCs hoping to extend the timeline shall first consult with the relevant case officer before seeking a waiver from the SFC. The waiver application must be supported by detailed reasons.
Multiple Custodians
OFCs must ensure that no scheme property should be left without custody. That said, private OFCs and their sub-funds may appoint multiple custodians. Custodians could be different for each sub-fund.
Willa Legal assists fund managers in structuring, incorporating and launching private OFCs, and handling ongoing compliance matters, e.g. drafting or reviewing waiver application to the SFC. Feel free to reach out to us at info@willalegal.com for OFC-related matters.