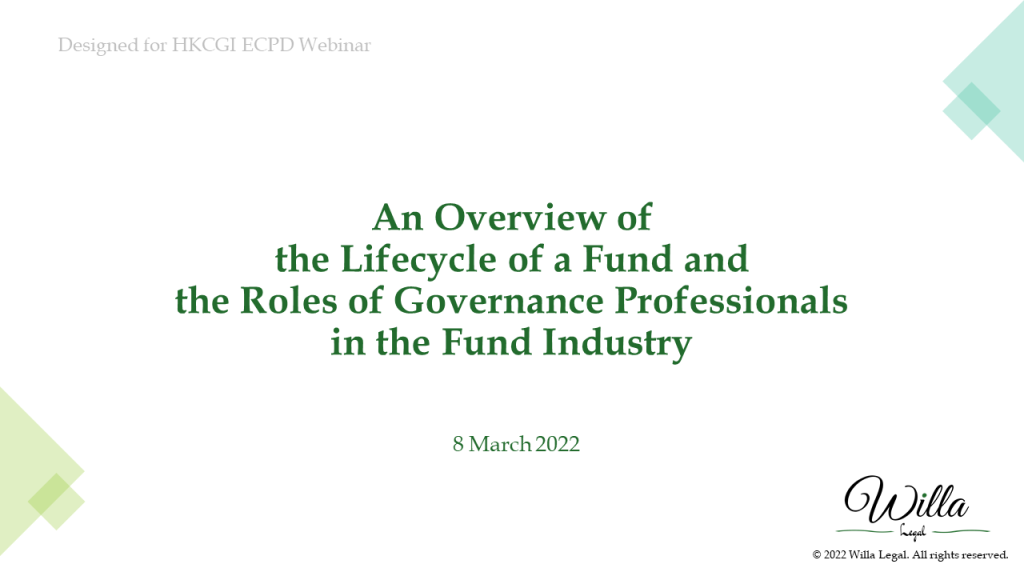 Willa did an ECPD-accredited sharing to corporate governance professionals on the lifecycle of a fund and their roles in the fund and fund management sector.
On 8 March 2022, Willa delivered an informative and insightful ECPD-accredited webinar to members of the Hong Kong Corporate Governance Institute. During the webinar, Willa discussed:
(a) how people describe funds, both legally and commercially;
(b) what to consider prior to and when establishing the first fund;
(c) the lifecycle of open-ended and closed-end funds;
(d) crisis management and business contingency plans; and
(e) the roles of governance professionals in the fund industry.
The webinar ended with an interactive and interesting Q&A section. The audience raised quality and sophisticated questions. Willa's professionalism and pragmatism were applauded.
If you would like to have a copy of the presentation materials for reference, please feel free to reach out to us by email at info@willalegal.com. We would be happy to share our know-how.